---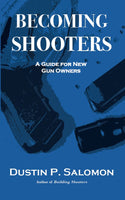 In the year 2020, an unprecedented number of Americans purchased firearms for the first time.

There is no shortage of information available to them about guns, gear, and how to shoot. Less clear, however, is how they can wade into this sea of information and navigate it effectively to achieve their goals.

This book fills that gap.

Author Dustin Salomon has been involved in firearms training since 1996. He is a former naval officer and Navy Combat Pistol Team member, a certified firearms instructor, and is at the leading edge of the industry when it comes to training design and learning methods.

Becoming Shooters is specifically written for new gun owners. It breaks down safety, the most important aspect of gun ownership, into the simplest, yet most complete guide to the subject currently in print. This includes a detailed chapter on firearms safety with children in the home.

Salomon also explains in layman's terms how the human brain learns, why this matters, and how to leverage this knowledge to your advantage as a new gun owner. It explains the unique (and critical) factors related to gun training that make it unlike any other subject.

The book also lays out a wealth of insight into the industry itself.

Topics include considerations for training, the pros and cons of different training structures, what to look for (and avoid) in an instructor, issues to consider when prioritizing goals, a sample curriculum for developing self-defense skills, a discussion on tactics, and more.

If you are a new gun owner, or are considering buying a gun, Becoming Shooters is a must read.
Publisher ‏ : ‎
Innovative Services and Solutions LLC (May 28, 2021)
Language ‏ : ‎
English
Paperback ‏ : ‎
146 pages
ISBN-13 ‏ : ‎
978-1952594120
Item Weight ‏ : ‎
7.7 ounces
Dimensions ‏ : ‎
5 x 0.33 x 8 inches